Smartphones have become an essential part of our lives, keeping us connected, informed, and entertained. To ensure that our smartphones continue to perform at their best, it's crucial to clean and maintain them regularly. In this article, we'll explore some useful tips to help you clean and maintain your smartphone for optimal performance.
In today's fast-paced digital world, smartphones have become indispensable. We rely on them for various tasks, from checking emails and browsing the internet to capturing precious moments with the camera. However, with regular use, smartphones can accumulate dirt, dust, and grime, affecting their performance and longevity. By following some simple cleaning and maintenance tips, you can keep your smartphone in top shape.
Importance of Cleaning and Maintaining Your Smartphone
Cleaning and maintaining your smartphone is vital for several reasons. Firstly, regular cleaning helps remove dirt, oils, and bacteria that can accumulate on the device's surface, including the screen and casing. This not only keeps your smartphone looking clean and presentable but also ensures a hygienic user experience.
Moreover, a clean smartphone performs better. Accumulated dirt and dust can clog the phone's ports and openings, affecting audio quality, charging efficiency, and signal reception. By keeping your smartphone clean, you can optimize its performance and extend its lifespan.
Precautions before Cleaning Your Smartphone
Before diving into the cleaning process, it's important to take some precautions to avoid damaging your smartphone. Begin by turning off the device and removing any accessories, such as phone cases and screen protectors. Additionally, make sure your hands are clean and dry to prevent transferring dirt and oils back onto the device during cleaning.
Essential Tools for Cleaning Your Smartphone
To clean your smartphone effectively, you'll need a few essential tools. Microfiber cloths are ideal for wiping away fingerprints, smudges, and dust from the screen and other surfaces. Cotton swabs can help reach into small crevices, such as around the camera lens and ports. Isopropyl alcohol, diluted with water, can be used sparingly to disinfect the surfaces. Avoid using excessive amounts of liquid to prevent any damage to the internal components.
Step-by-Step Guide to Cleaning Your Smartphone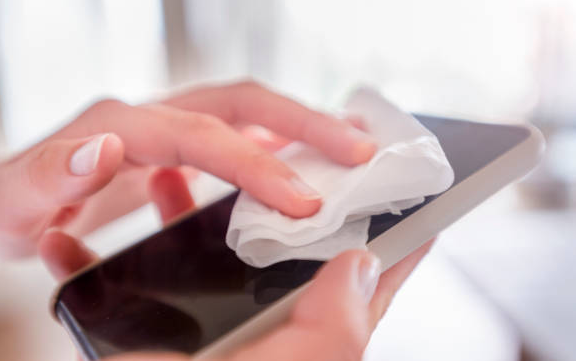 Cleaning your smartphone involves several steps, and following a systematic approach ensures thorough cleaning without causing any harm. Here's a step-by-step guide to cleaning your smartphone:
Step 1: Turn off the smartphone
Before starting the cleaning process, switch off your smartphone to prevent any accidental damage.
Step 2: Remove the phone case and accessories
Take off the phone case, screen protector, and any other accessories attached to your smartphone.
Step 3: Wipe the screen and display
Using a microfiber cloth, gently wipe the screen and display to remove fingerprints, smudges, and dust.
Step 4: Clean the camera lens
With a clean, dry cloth or a cotton swab lightly dampened with water, clean the camera lens to ensure clear and sharp photos.
Step 5: Clean the ports and openings
Carefully clean the charging port, headphone jack, and speaker grilles using a cotton swab or a small brush. Be gentle to avoid any damage.
Step 6: Clean the exterior
Wipe the back, sides, and buttons of your smartphone with a microfiber cloth or a cloth dampened with a small amount of isopropyl alcohol solution.
Cleaning the Screen and Display
The screen and display of your smartphone are prone to accumulating fingerprints, smudges, and dust. To clean them effectively, start by turning off your device. Then, use a microfiber cloth to gently wipe the screen in circular motions, focusing on areas with visible smudges or fingerprints. Avoid using excessive pressure or harsh cleaning agents, as they can damage the screen's coating.
Cleaning the Camera Lens
The camera lens plays a crucial role in capturing high-quality photos. To maintain its performance, it's essential to keep it clean. Use a clean, dry cloth or a cotton swab lightly dampened with water to gently wipe the camera lens. Be cautious not to press too hard or use abrasive materials that could scratch the lens.
Cleaning the Ports and Openings
Dirt and debris can accumulate in the ports and openings of your smartphone, affecting its functionality. To clean these areas, use a cotton swab or a small brush to carefully remove any visible debris. Take extra care when cleaning the charging port to avoid causing damage.
Cleaning the Exterior
The exterior of your smartphone can also attract dirt, oils, and grime. Use a microfiber cloth or a cloth lightly dampened with an isopropyl alcohol solution to wipe the back, sides, and buttons of your device. Ensure that the cloth is not overly wet, and avoid getting moisture into any openings.
Tips for Maintaining Your Smartphone
In addition to regular cleaning, there are several other practices you can adopt to maintain your smartphone's optimal performance:
Avoiding Overheating
Excessive heat can negatively impact your smartphone's battery life and performance. Avoid leaving your device in direct sunlight or in hot environments for extended periods. Additionally, refrain from using your smartphone while it's charging, as it generates heat.
Regular Software Updates
Keeping your smartphone's software up to date is crucial for security and performance enhancements. Enable automatic updates or regularly check for the latest software version provided by the manufacturer.
Managing Storage Space
A cluttered storage space can slow down your smartphone and affect its performance. Regularly delete unnecessary files, apps, and media to free up space and keep your device running smoothly.
Protecting Your Smartphone from Physical Damage
Invest in a reliable phone case and screen protector to safeguard your smartphone from accidental drops and scratches. Additionally, handle your device with care and avoid exposing it to moisture or extreme temperatures.
Conclusion
Cleaning and maintaining your smartphone is essential for ensuring optimal performance and longevity. By following the tips outlined in this article, you can keep your device clean, hygienic, and functioning at its best. Regular cleaning, combined with proper maintenance practices, will help you get the most out of your smartphone and enjoy a seamless user experience.
FAQs
1: How often should I clean my smartphone?
It is recommended to clean your smartphone at least once a week to prevent the accumulation of dirt and grime.
2: Can I use household cleaning agents to clean my smartphone?

 No, it's best to avoid using household cleaning agents as they can be harsh and damage the delicate surfaces of your smartphone. Stick to microfiber cloths, cotton swabs, and isopropyl alcohol solution for effective cleaning.
3: Is it necessary to turn off my smartphone before cleaning it?
Yes, turning off your smartphone before cleaning it is important to avoid accidental damage and ensure your safety.
4: Can I clean the inside of my smartphone?
It is not recommended to clean the inside of your smartphone unless you have the necessary technical expertise. Opening the device may void the warranty and can lead to damage.
5: How can I prevent fingerprints on my smartphone screen?
To reduce fingerprints on your smartphone screen, consider using a screen protector or a smudge-resistant coating specifically designed for mobile devices.